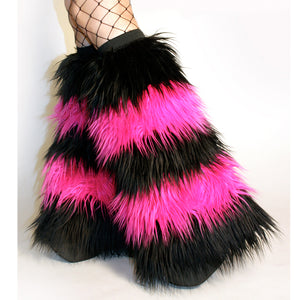 Striped Black Hot Pink Fluffies
Made professionally using The softest, fluffiest and longest haired Black and Hot pink faux fur.

They are 19" long from top to bottom, and flared around the bottom, with an elastic band sewn at the top (can be worn shown out or hidden - tucked in) to keep them from slipping down while you're partying the night out at the club.

One size fits most (Stretchy elastic will Fit most calfs, let me know if you think you may need custom size or length).
--------------------------------------

☆ Exclusively designed by us, made in the USA.

☆ In stock - Ships worldwide 

☆ Returns, Exchange - please see our Refund policy

☆ Questions? Contact us! 

----------------------------------------