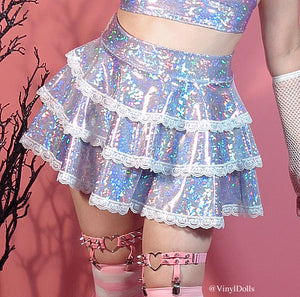 Sparkling Lilac Iridescent Skirt
The skirt is a full circle cut, triple layered, Sparkle Lilac with white lace trim, Skater skirt.

Will fit comfortably on your mid upper waist (for the size measure around your actual waist).

Length - 14" inch long.
---------------------

☆Handmade item - Exclusively designed by us.

☆Made to order - please allow 1-2 weeks (read our Shipping policy)

☆Ships worldwide from the United States

☆Returns, Exchange - please see our Refund policy

☆Questions? Contact us! 
---------------------
Size Chart -
XS: 24-25 waist
S: 26-28 waist
M: 28-31 waist
L: 32-34 waist
XL: 35-40 waist
XXL: 41-44 waist
XXXL: 45-48 waist